Beckett Authentication Announces New Certification Sticker
Beckett Authentication Services is taking the next step in counterfeit protection with a new tamper-evident certification sticker to be released in March 2021. This new sticker features a proprietary custom branded hologram and incorporates a QR code for easier verification.
The new sticker will replace the old style, which featured a blue and red color logo against a white background, for all authentication services that utilize a sticker as part of the authentication process. It is important to note, these previously issued stickers are still valid, they will continue to offer counterfeit protection by leaving behind fragments of the sticker when removed to prevent application to another item.
As part of increasing our anti-counterfeiting measures, we are now utilizing a hologram feature that is proprietary to Beckett with a unique combination of patterns and layers. The hologram background will shift between the Beckett Authentication logo and the words "Beckett Authentication" written out depending on the angle it is viewed in.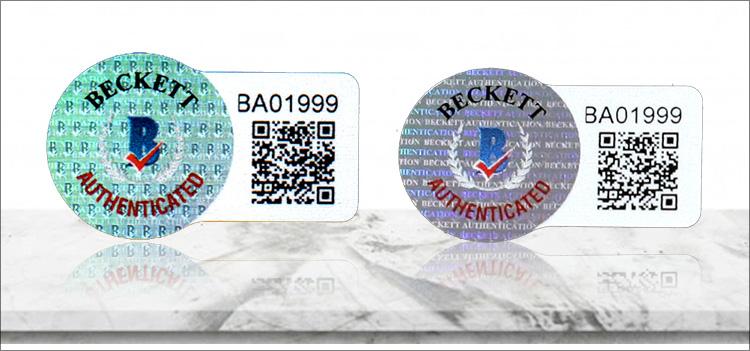 Beyond the improved security with the hologram feature, we have also added a QR code. The QR code will open to the Beckett Authentication database by simply scanning it with a camera from any smartphone. This convenient database access allows Beckett customers to easily view all the pertinent details of the certified item from any location at any time.
With the launch of the new stickers, we are beginning to take steps towards eliminating the printed certification cards and transitioning to a fully digital certificate. You will see this happen first with our Witness Certification service. Signatures that are authenticated as part of our witness service will no longer have a printed certification card to accompany the certification sticker on the item.
The tamper-evident certification sticker has always been used to identify autographs certified by Beckett Authentication Services, the certificate card simply informed people where to look up the alphanumeric number on the sticker. Now that the sticker uses a QR code for verification, the cards no longer seem necessary. We do understand that some customers like to display the COA card with their item, so we will be providing a printable option from the website.
"Because so many of the transactions between buyers and sellers of autographed memorabilia take place online, we wanted to add another layer of protection to our certification stickers, further protecting our customers. The hologram feature is using some of the most advanced technology available and should easily stand out if something has been tampered with", said Jeromy Murray, President of Beckett. "As the market grows and new collectors begin to enter, we wanted to make it easier for everyone to be assured they are receiving a genuine certified autograph. We are always looking to improve our products and services, and this new certification sticker is something we are really excited to offer the customers of Beckett Authentication Services."