Items submitted for Autograph Encapsulation undergo the same process as those submitted for Autograph Authentication, however, instead of receiving a tamper-evident label and Certificate/Letter of Authenticity they are encapsulated in our tamper-evident case.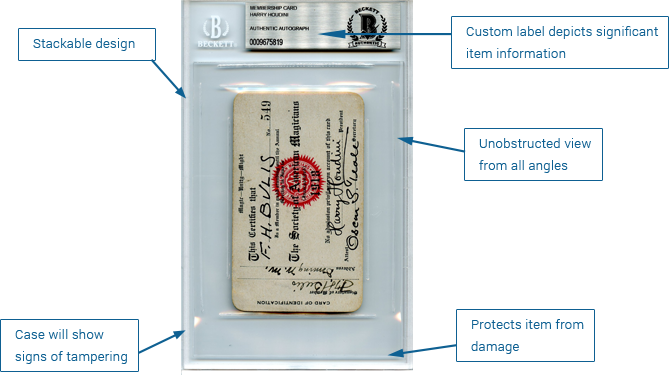 Current Beckett Authentication Services Holder Sizes
Standard Holder - 2.6" x 3.75"
Tall Boy Holder - 3.5" x 5.25"
Oversize Photograph Holder - 8.25" x 10.375" x 0.30" thick
Oversize Check/Ticket Holder – 5.25" x 7.25"
Oversize Magazine Holder – 8.5" x 11" x 0.64" thick
The measurements listed above are the maximum dimensions for each holder. Because all items vary in size, inserts may be used to provide a more custom fit. There may be items that BAS's current holders cannot accommodate, but check back in the future as new holders are introduced.
Ready to submit your items?