Collecting Presidential Autographs
Presidential autographs remain highly sought after amongst autograph collectors. While not everyone may be into sports or Hollywood autographs, collecting presidential autographs is universal for the simple fact of owning a piece of American history.
Whether you are collecting presidential autographs for your own personal collection or seeking them as investment pieces here are some tips to keep in mind as you get started.
Don't Be Fooled By Autopen or Secretarial Versions
Because presidents have to sign so many items while in office, many use alternative ways to pen their graph to the not so important items. Personal correspondences, holiday greeting cards, and congratulatory birth/wedding announcements are all likely signed by autopen. But it doesn't stop there, autopen signatures are even used to sign important congressional bills. In 2011, Barack Obama became the first American president to use an autopen machine to sign a bill into law.
Autopen machines use live ink to scribe a programmed signature making it difficult for the average person to differentiate between the genuine signature and the autopen version as they both appear to be live. Some presidents have well-documented autopen signatures while others do not, but with experience, authenticators can distinguish between the two.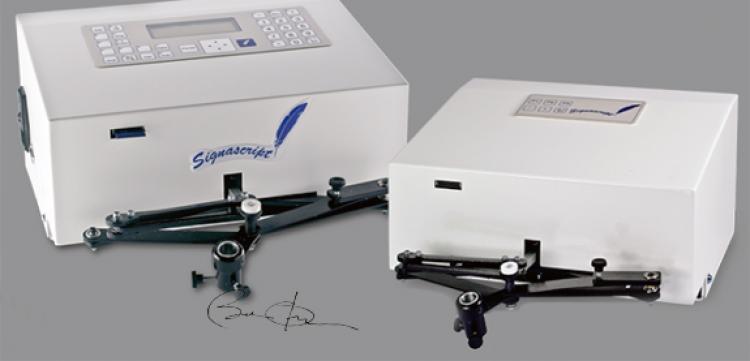 Image Source: www.smithsonianmag.com
Content Affects the Value
Documents related to a significant event that defines a president's legacy have historical significance and therefore are often more valuable and highly sought after. Generally speaking, a document on presidential policy is going to be more valuable than a thank you note. Additionally, if the document is entirely in a president's hand it is going to be more desirable than a typed signed note or a note that was written by a secretary and just signed by the president.
Also impacting value, whether an autograph is signed while in office or out of term. While it is sometimes hard to determine, most collectors prefer autographs that are documented as being signed by the sitting president (official letterhead, dated, capaign material etc.) versus those that are known to be signed at a later time (memoir books).
It is rare for a sitting president to sign autographs in-person. The secret service is very protective (obviously) of the president and, because signing autographs at an event can be spontaneous, it's rare they let the president do it. The scarcity of presidential autographs signed while in office drives the value of these autographs versus those signed after the president has left office.
Image Source: Official White House Photo by Pete Souza
The Medium Matters
Just as the content impacts the collectability and value of presidential autographs, so does the item type the signature appears on. Again, collectors like official documents tied to the presidency, but they also like rarer items like baseballs. What is more American than baseball and the President!
Most modern-day presidents write a memoir book and often sign as part of book tours and speaking engagements. Because these are readily available on the marketplace, they may not be as valuable as a rare, one-of-a-kind document.
For example, a copy of the articles of impeachment signed by President Donald Trump was sold by Goldin Auctions for $81,180 (February 2020). While the value of Donald Trump's autograph varies, you can find authenticated cuts for $300-$500 and rarer items like baseballs and Playboy Magazines for $1,000 - $3,500.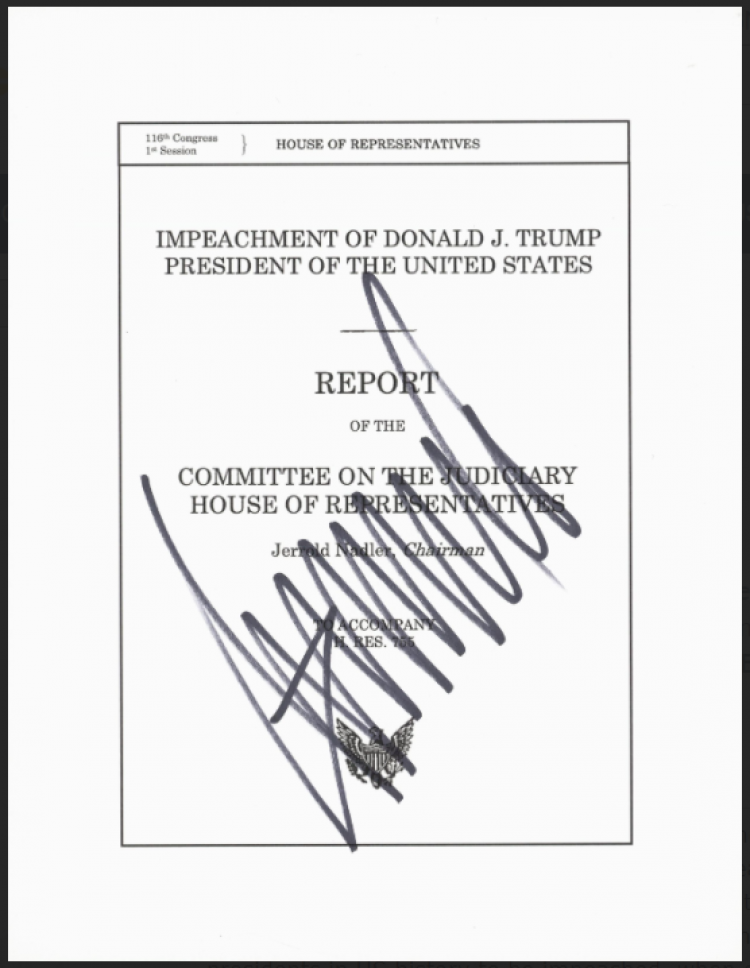 The President Matters
Not all presidential items command the same value. Which president signed the item, and their presidential legacy has a lot to do with the value of the item. William Henry Harrison only served as president for 31 days, the value of his autograph on something that was signed during his presidency is significantly more than a modern-day president for which there's enough supply to meet the demand.
A good rule of thumb for collectors to follow is, pick your focus before you start purchasing items. Decide if you are trying to collect all 45 presidents or just certain ones. Decide if the item type matters, maybe you only want signed baseballs or maybe you don't care about the item type. Having a plan in place before you start collecting can help you narrow down the items you are looking at. There are plenty of authenticated options available through auction houses but if you are looking online and it is not already certified, get a Beckett Signature Review first!