BAS Certified Kobe Bryant Score's Report Sales at Goldin Auctions
By now there isn't much more that can be said about the legacy that Kobe Bryant left behind. His work on and off the court speak for themselves and it seems like the legend of the Black Mamba grows on a day to day basis. While more and more details emerge about the man he was after retirement it's easy to understand how and why interest in memorabilia from his playing career is starting to reach new heights as well.
Recently, Goldin Auctions wrapped up their Winter 2020 auctions that featured Bryant items that collectors clamored for before the final gavel was dropped. Everything from game-worn jerseys that reached realized prices over $30,000 to a pair of Nike XI Elite sneakers that ended just under $4,500. However, the piece that was most interesting to watch was a BAS certified NBA Official Score's Report from January 22, 2006, signed by Kobe, the night he dropped 81 points on the Toronto Raptors.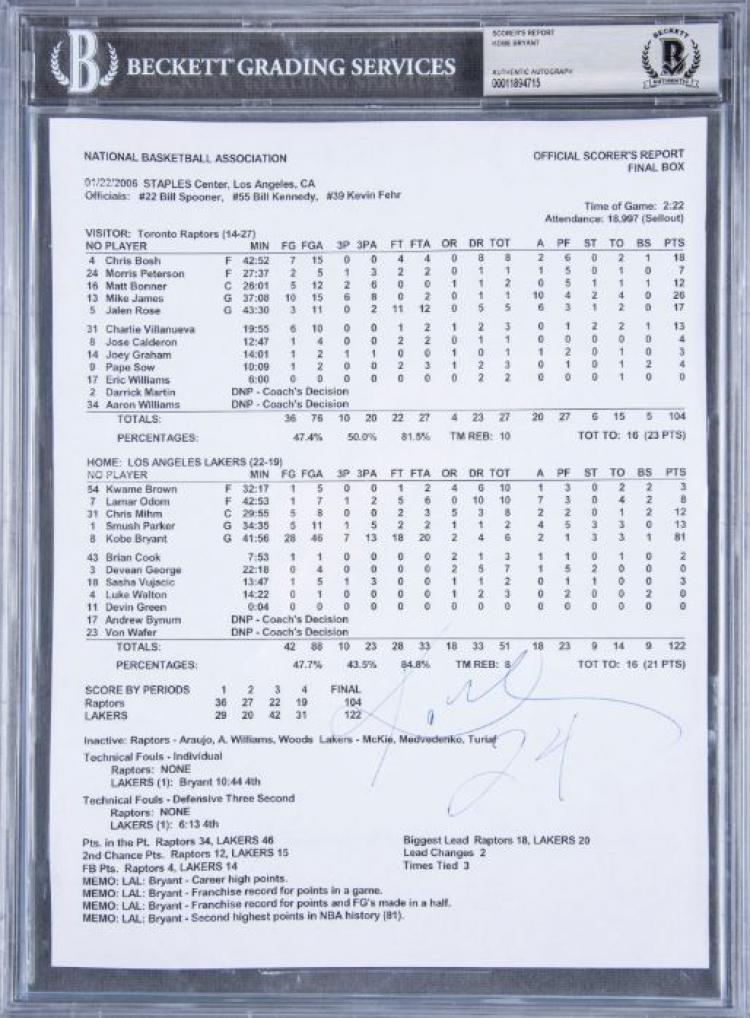 For collectors of a certain generation that game was special for many reasons, the least of which was we witnessed greatness right before our eyes. In 41 minutes Kobe made 28 of 46 shots as he almost single handily sent Toronto packing out of the Staples Center. Only two other Lakers even saw double-digit points that night, Chris Mihm with 12 points and Smush Parker with 13.
The game is a defining moment in the remarkable career of Bryant. His 81 points remain as the second-highest total for a single-game score behind only Wilt Chamberlain who scored 100 points nearly 40 years earlier in 1962. The league was very different than thus Kobe's outburst of 55 points in the second half may be more impressive.

According to Goldin Auctions, the scoring report "was only available to media reporters onsite as well as employees, players and staff at the Staples Center on this night," making the rarity of the item even more impressive. Kobe signed the report in 2016 just a few weeks before his final game where he dropped 60 points to end his career in Mamba fashion.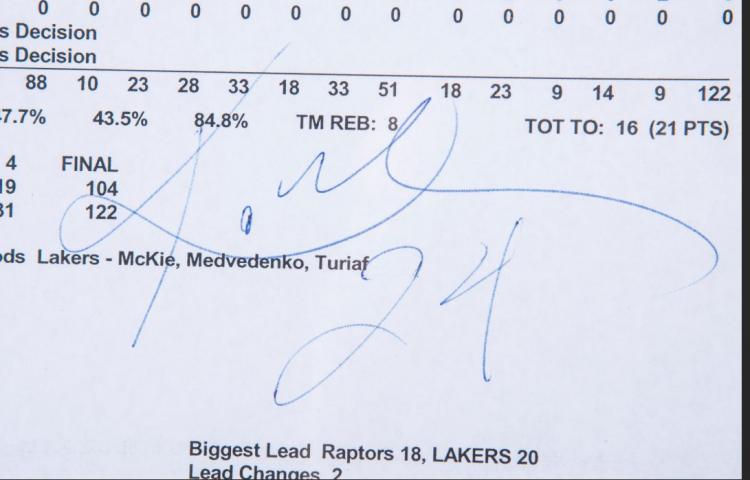 The piece had an opening minimum bid of $1000 and closed at a remarkable $19,680. Goldin Auction will generously be donating 100% of the Buyer's Premium to the MambaOnThree Fund which was created to support the loved ones of the 7 other victims involved in that fatal helicopter crash on January 26, 2020.