Steve Grad to host 'Autographing 101' at Fullerton Public Library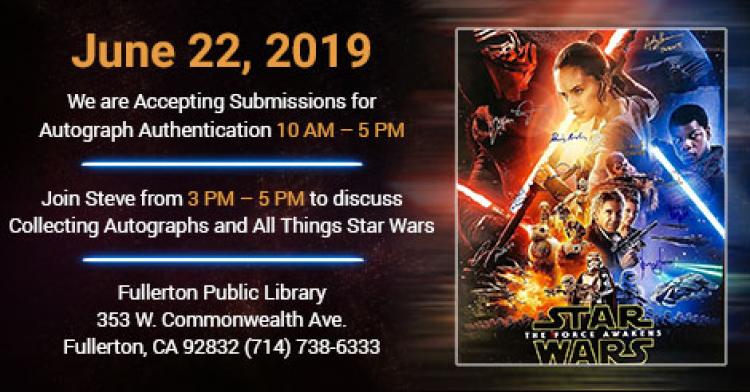 Curious about the ins and outs of collecting? Want to get some tips on spotting fakes? Want to meet a Reality TV star?
If you answered yes to any of those questions, this is an event just for you.
"Autographing 101," presented by the Fullerton Public Library Foundation takes place 3-5 p.m. Saturday, June 22, 2019, at 353 W. Commonwealth Ave., Fullerton, Cal.
Steve Grad, known as the autograph authenticator from History Channel's "Pawn Stars" and as Principal Authenticator for Beckett Authentication Services, will lead the seminar along with Andy Luk, founder of Facebook's largest Star Wars Autograph group, Star Wars Autograph Universe.
Together they bring over fifty years of autographing experience and will discuss their introduction to the hobby, how to start collecting and avoiding the 95% of fraudulent signatures on the market. Each has an interesting insight into the hobby and economy of autograph collecting and is an event you do not want to miss.
Tickets for the event can be bought in advance on the Fullerton Public Library Foundation website and day-of tickets will be available at the library. Proceeds will benefit the foundation. Ticket purchases also enter the attendee into a drawing for an 11×14 Harrison Ford autograph picture.
"The most important thing is to educate collectors and potential new collectors about the pitfalls, hazards and also the fun of collecting autographs," Grad said. "I've been involved in collecting my entire life, I always have some good tips and advice to share with people. I think as collectors and like-minded people, it's good to keep an open mind about collecting. You can learn something new every day."
Grad brings a lifetime of autograph experience to the seminar. With that comes a wealth of knowledge and experience he will share, including sharing ways to counter the fraud that exists.
"Unfortunately, (fake autographs) dominate the industry and collecting," Grad said. "They are just about everywhere, too. From online auctions to smaller estate sales, to your local card store. As long as people collect things, there will be people that are forging things. I've not seen the flow stop over the years just get more sophisticated."
Adding to Grad's excitement is the chance to do the event with Luk.
"Andy is an advanced collector and a great friend," Grad said. "Through SWAU, he's helped to educate collectors and given them a safe place to buy and sell REAL autographs. He's been a key person in helping expand Beckett Authentication's services into Facebook and at the same time he's helped educate thousands of collectors about using authentication."
In addition to the seminar, Beckett Authentication Services will be on location to authenticate autographs. More information can be found below.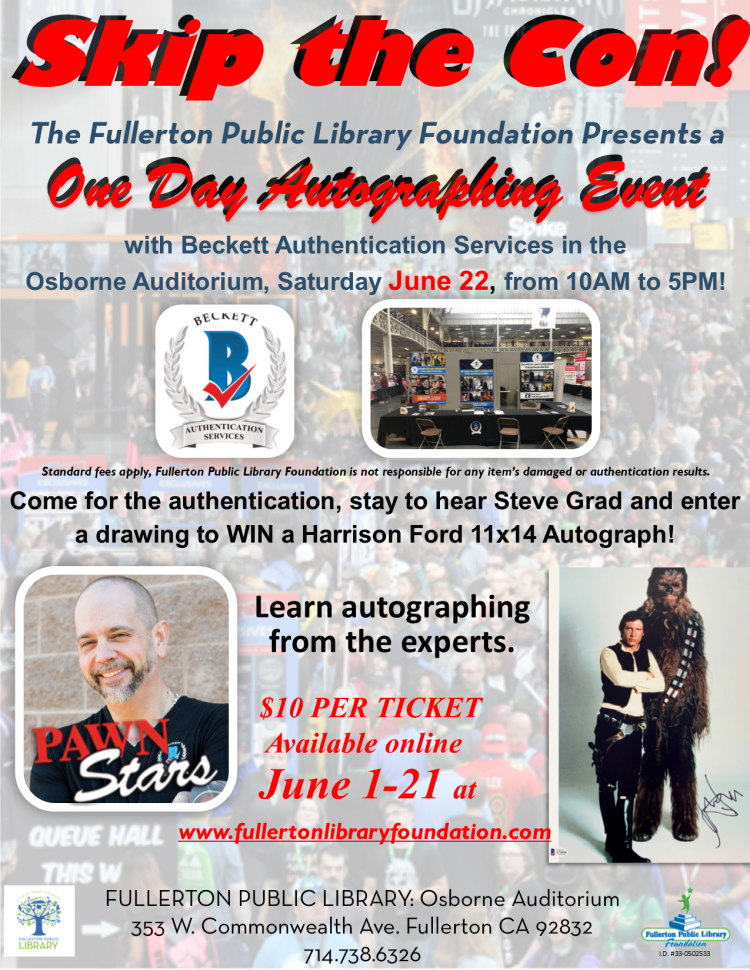 Autograph 101
When: 3-5 p.m. Saturday, June 22, 2019
Where: 353 W. Commonwealth Ave., Fullerton, CA
Tickets: Fullerton Public Library Foundation

BAS at the Fullerton Public Library
When: 10 a.m.-5 p.m., Saturday, June 22
Where: 353 W. Commonwealth Ave., Fullerton, CA
Services Offered: Beckett Authentication Services will be present to authenticate your autographs onsite, turnaround time varies with demand.