Certification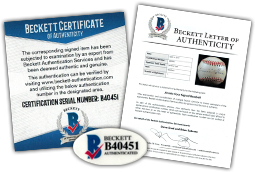 Once a signature is deemed authentic, a half-inch oval tamper-evident label, with the alphanumeric BAS Certification number, is applied to the item. This label can only be applied to an object once, and can be removed, but will leave behind fragments of the label, preventing it from being reapplied to any other object.
In addition to the certification label, all BAS-certified items are issued either a Certificate of Authenticity (COA) or Letter of Authenticity (LOA) featuring the same alphanumeric certification number.
LOAs, in particular, also feature a high-resolution image of the exact item that was examined and authenticated by our staff and are printed on our specially watermarked paper.